My first round card! :)
Joscie
totally inspired me to use my Silhouette, which has been sitting here gathering dust.
I made this pretty little circle card for my in-laws anniversary. I LOVE it! I'm so glad that I have the pattern now, I can make more. I drew everything in Adobe Illustrator, then cut it out on my Silhouette. I will have svg files later in the week for you, if you'd like to cut them out, too.
I used my Slice for the butterfly, then outlined it with some Stickles.
For the sentiment shape, you just cut out the shape, print your sentiment on an 8 1/2 x 11 piece of paper using word or whatever program you want. Tape the shape over the word, using double sided tape. Also, tape down the top tip of the shape. It tends to bend over. Took me 3 tries before I fixed it. Just make sure your tape isn't super sticky. Stick it to your shirt first to get it fuzzy and take some of the tackiness off of it.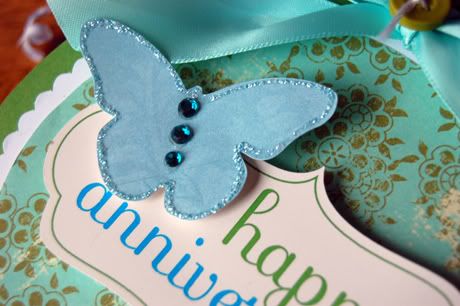 Pretty bow! I really like the width of this ribbon. I'd like to get some more.
Oh, I guess I should share my refrigerator story with ya... too funny.
We bought a new Samsung stainless steel fridge at Best Buy. Now, we weren't stupid about it, we measured our cabinets. We had 36 inches on the top, and about 35 1/2, due to the fact that the counter top was hanging over a bit, and there was about an inch of space to the right of our stove.
We looked and looked and found the one I fell in love with at Best Buy. You know how it is, you just
MUST
to have
THAT
one. No other would do. It had all the bells and whistles of the over 2 grand models, but for half the price. LED lights that slowly light up the longer the door is open, fancy buttons for the ice... easy access to the water filter. Nice shelves, that were closed so if you spill soy sauce in it, it doesn't drip down to all the other shelves.
We buy it on Saturday. We come home and measure. Hmmm, doesn't look like it's going to fit on the bottom. Top cabinets are OK. Matt takes the counter top off and cuts off an inch. Then he painstakingly shaves off about a half inch from the cupboard.
Tuesday the ginormous fridge arrives. The delivery guys take our old white ancient (14 year old) fridge and move it into the garage. (hello beer fridge) They bring in the new fridge, and take one look at the space and say,
"That ain't gonna fit."
Oh no!
We tell them, just leave it where it is and we'll figure something out.
We remeasured the top, and assured ourselves that it will indeed fit. We decided to go to Lowes and get the waterline hookup and also look for a smaller base cabinet. Ours was 18 inches... we needed to go to 16. (alas, they don't make 16, we got a 15")
At Lowes I found an oak 15" cabinet that looked similar to ours. We get it home and I immediately say, "That doesn't match our cabinets at all."
Oi vay, what a fiasco!
Matt tells me that we are not taking it back. He had already opened the box. Oh well. He put the cabinet in, shaved off some more of the counter top, and we hook the waterline up... push the fridge back into the space and ....
dang!!
Now the
WALL
is in the way!! What the heck!! This space is supposedly designed for a refrigerator.
Well, we just have to have the fridge about 8 inches from the back wall in order for the freezer door to open.
Can you believe this?
I was sooo upset. Crying that I had a "hillbilly" kitchen!
Sometime in the future, I will remodel the kitchen. For now, I'm stuck with the hillbilly cabinets and my shiny new fridge pulled too far from the wall. I think if I paint the cabinets, then they'll all be unified. Plus, I wanted to paint them anyway.
Here's the monster that caused all the problems: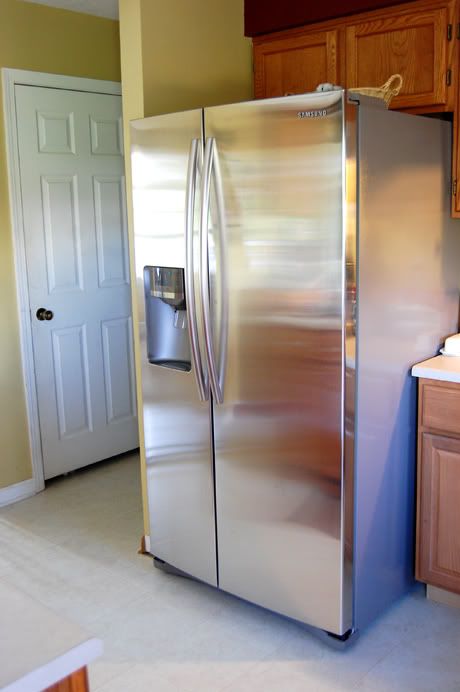 Notice how the upper cabinets are a reddish stain, and the lower cabinet is quite a bit lighter and not reddish at all. Not to mention, a completely different style!!
I do love the shelves, and I have SO much room now!!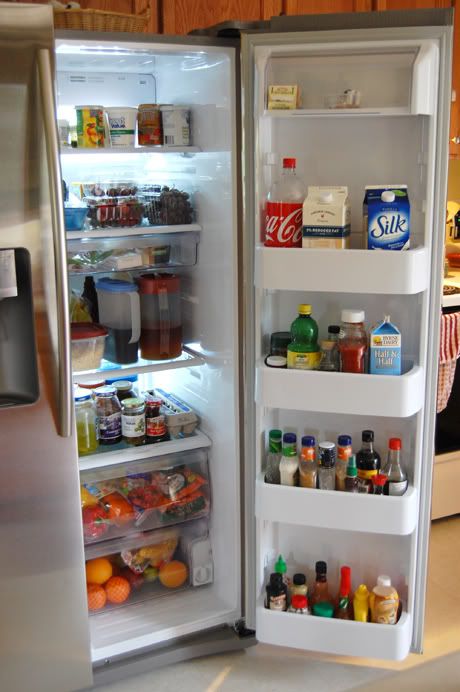 Look at all those healthy fruits and veggies in there. Dr. Oz would be proud!
Don't ya just love these lights??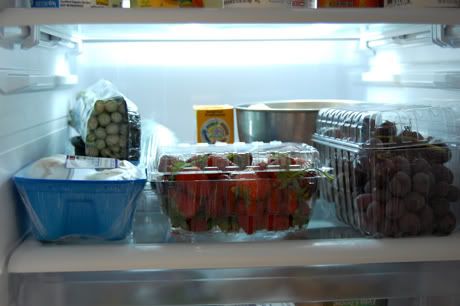 Well, that's my fridge story. I swear, we live by Murphy's law. What can you do.
So, what's the moral of this story? I think it is you can make anything work if you try. ;)
Have a great day.