Here we go.... again with the purple! What's up with that?
OK, this purple is more on the pink side. It's new from My Minds Eye, and I just ADORE it!
I also adore these photos of my daughter when she was a baby. We called her Chu-Chi.
About 2 weeks ago, we were all sitting around watching Chitty Chitty Bang Bang, and that song came on... Chu-Chi Face... immediately I knew I wanted to do a layout using that song and Chu-Chi as the title.
Here it is... a little on the busy side, but eh, that's OK, it's just for me.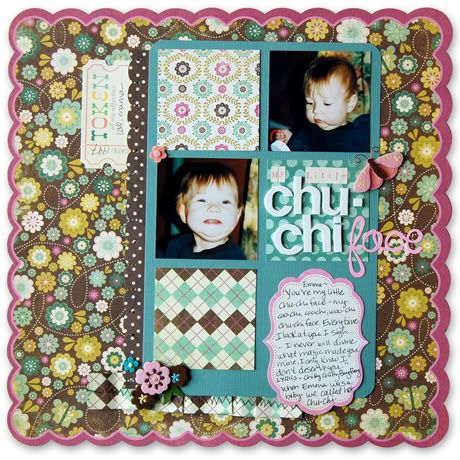 And a couple of close ups: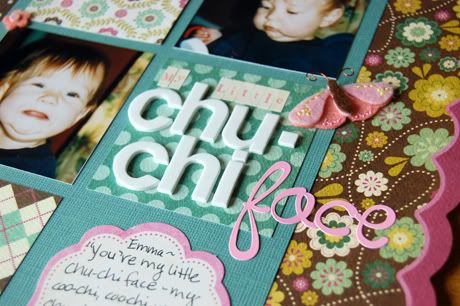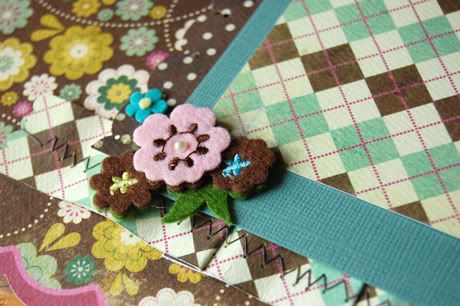 Did you see her cheeks? So squeezable!
I saw a layout on 2 peas that used the 6 squares, and for the life of me I can't remember who influenced this design.
So many "good" things are happening.
Finally!
I'm happy again.
1. I have EYEBROWS! Yes, it's the little things. You have no idea how hard it is to pencil in eyebrows... many days I'd end up with one up and one down... which totally cracked me up. I just kept remembering the line in Toy Story, when Mrs. Potatohead was packing up Mr. Potatohead and asking him if he wanted to take his "angry" eyebrows!
2. We bought a new fridge... I know I posted this before, but I really love that thing! It makes me happy!
3. I'm doing physical therapy, and I love it. It hurts so good! LOL! My arm is recovering quickly. I went from being able to bend it 80° to 144° in a matter of 2 weeks... she said I was doing great, so I'm taking her word for it.
4. Summer is quickly approaching, and that in and of itself makes me happy. No school! Warm days, eating outside, picnics, graduations, amusement parks! The beach! Yea summer!
5. I get to be a guest designer on the
Ally Scraps
blog coming up here in June! That makes me happy!
6. Grandma Barbara, aka my mother in law, is giving us money to buy a new sofa! Woot! Yeah for Grandma Barbara! She's da bomb! She said it's for all the past couple of rough months we had with my chemo and all. Plus, I was complaining about our ugly furniture!
7. I lost a few pounds since being off of those stinkin' steroids, and that makes me happy. A few more (or 20) would make me even happier. ;)
8. The kindness of everyone makes me happy. Friends and strangers alike, they just amaze me. People I don't know send me cards and letters saying they are thinking of me and praying for me... it is just amazing and touching and wonderful. I appreciate every single card, letter, and kind word. It has really gotten me through these past months. Thank you all!!
9. My iPod makes me happy. I take that little thing every where. Keeps my notes, my appointments, email, music.... love, love, love it!
10. Last, but certainly not least.... my hubby and kids, who were so loving and patient and kind to me all winter while I was sick.... who doesn't make me feel ugly and tell me that they like my little bit of stubble on my head and prefer that over my wig.
Happy day to you, too!!