for a new sofa. I found the perfect one online at Ikea,
here
, which looks a lot like the Pottery Barn sofa,
here
. Unfortunately, it did not feel the same. The seats were short, and when you have a 6' 2" husband with long legs, that's not gonna cut it. Maybe if we were a tiny family. Plus the Ikea cushions were hard (sorry Ikea, but they were)... and I want something cushy on my big butt! LOL!
Here's a side by side comparison on looks:
Virtually no difference. But, I've sat in the PB one, and oh my, it's heaven! But, the price is steep. I wouldn't mind paying that much if it was just Matt and I, but, I have 2 dogs and 2 kids who make messes, and I would just cry if I paid $2500 for a sofa and in 2 days it had dog hair and spills, ya know.
So, here's my other option, at Value City Furniture (weird name, sounds cheap, but they actually have nice stuff)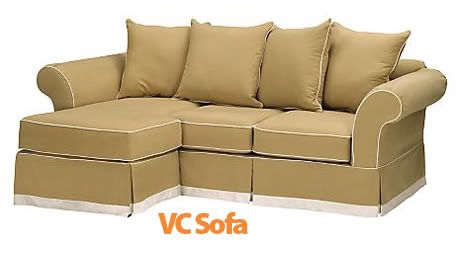 My husband isn't crazy about the loose back pillows, but I convinced him to sit in it and try it first.
I want a chaise because we always fight over one end of the sofa! This way, someone can stretch their legs out on that side... I could be swayed to more of a sectional, but I have a window along that wall and think it might look weird if part of it was covered up by a sofa.
So, the search continues. I hope I can find something today!! Ikea was a bust... I did get 2 outdoor rugs (oh boy!) one for the front door and one for the back.
In other news... ;) Here is what I made for my Mother in law for Mother's Day. I sooo wanted to keep these. The photos aren't great because I took them at night.
(sorry)
I bought a mat stack of My Minds Eye Home line, and cut about 1/3 off and then swapped that with the coordinating paper (did that make sense?)... it fit perfectly on the cards that I bought. When I bought the cards and envelopes I thought the cards were folded, but they weren't, so I had to make some out of cream cardstock, then I used the blue that came with the envelopes on top of that.
My Slice came in handy on these... I used it for all of the flowers/birds/butterflies. I kept the cards flat for easy mailing. So, rather than using gems on the cards, I used Stickles.
Anyway... I need to get ready to go furniture shopping, but first, we're getting a rental car to drive to Gettysburg tomorrow to be with my son on his field trip. Fun day! Hope it doesn't rain. While we use the rental car, our car will be in the shop getting an oil change.
Have

a

great

Tuesday

!!
It's a great TV night, LOST, GLEE and Dancing with the Stars... you know, GLEE wins! ha! But, I'll watch the others online.