We got the new furniture. I like it a lot. We had to rearrange the family room, put the tv on the side wall instead of the back wall, and now we need to buy a new cable for the tv, but other than that, it worked out perfect. It's so fresh looking in there now. Before I had dark brown sofas. (you can see these in the layout below)
Here's how the room turned out. I still need to put some artwork on the bare walls. We had to take the picture down that I had up. I'm going to do some art canvases of a few of my favorite project 365 photos. You can get 12 x 12 canvases for around $12 at
Arts Cow
. I thought doing about 6 in black and white would look really cool.
I had to stitch 2 photos together. My wide angle lens isn't wide enough. (If you look way back past the kitchen, thru the arch is a white door... that's our office. We bought this house because of that office!
Here's just the sofa... love it! I'm going to paint the pine tables black. They are super duper old. I think we bought them in 1994. They are scratched and scuffed, crayoned and markered... just really beat up. They're do for a make over.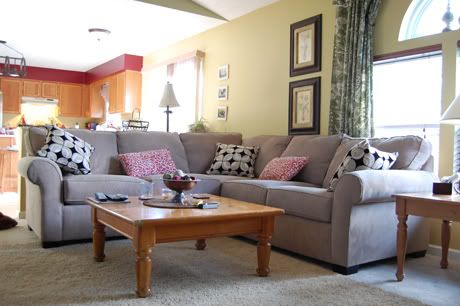 The pillows are growing on me. At first I didn't like them, but they're pretty cool.
Here's the other side of the room: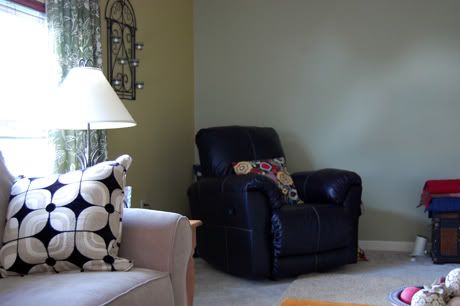 A comfy recliner for my hubs. I don't think it looks to terrible of a recliner. (and yes, that is one green wall and one yellow wall, we're weird like that! I'm tiring of the yellow though, I think I'll just take the green into the kitchen.)
And our fireplace... we painted it with orange suede Ralph Lauren paint. I'm sure the name isn't "orange" it's probably something fancy, but it's been 7 years and I can't remember.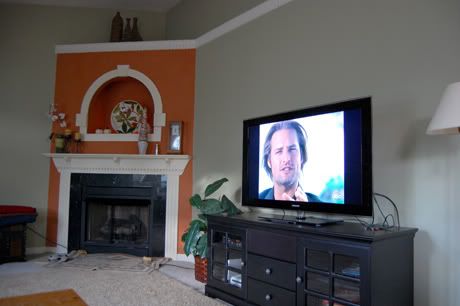 See that stinkin' cord for the cable... gotta get a new one.
(mmm, mmm, mmm, look at the eye candy on my tv. Hi Josh!!)
So, there's a peek at my family room. It's fun to redo a room. It's even more fun when you have money given to you from Grandma Barbara to buy new stuff. Thanks Barbara, we love ya!
And lastly, here's a digi layout I did using
Crystal Wilkerson
digi papers and elements available on
Jessica Sprague
.
This is our first home. It was little, but I loved it. We remodeled the whole thing, top to bottom. I still miss my maple kitchen cabinets. They were so much better than the ones I have now. But, we grew, and our business grew and Matt being 6' 2", and having a slanted ceiling attic office just wasn't cuttin' it for him. Plus, I wanted my kids to go to this school district.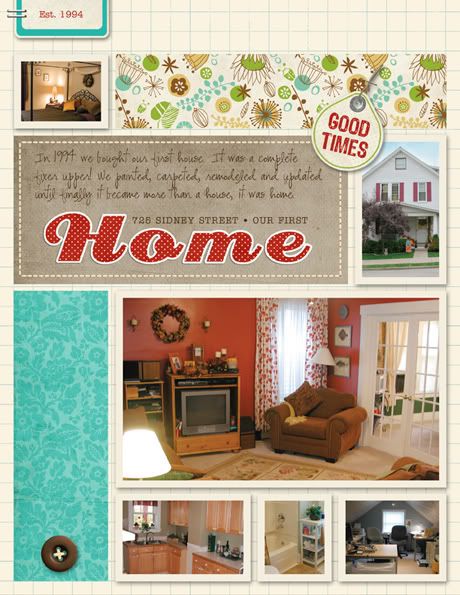 Well, that's it for today. I'm off to the Crop Shop to meet 2 scrappy friends, Debbie and Midori! Let's see what damage we can do!!
Have

a

wonderful

day!