Last night we were playing Scrabble with the kids. After 2 games, we decided to see if we had all the Scrabble tiles. We have 2 Scrabble games, and after counting the tiles for both, we discovered we were missing several "E's" (and one B). While playing we did notice some canine teeth marks in several letters! (Mystery solved, apparently they've been digested by one large brown hound!)
We combined the letters to have one complete set. We just need to remember that the tiles in the velvet bag have the correct number of letters.
The letter "E" has been a stinker for me since starting to scrapbook. When you buy letter stickers, like the AC Thickers, there are never enough E's. They need to take a clue from the Scrabble tiles and have at least 10 E's!

Speaking of E's...
have you seen the new paper company
Echo Park
? Well, I just happen to have some Echo Park paper from
Ally Scraps
! And it's super cute! It's design is by Crystal Wilkerson. You might recall that I do some digital scrapbooking for Crystal, so I was super excited when I found out she's designing for them.
Here's the layout I did for my
guest blog spot
on
Ally Scraps
using the
Echo Park Sweet Summertime
paper.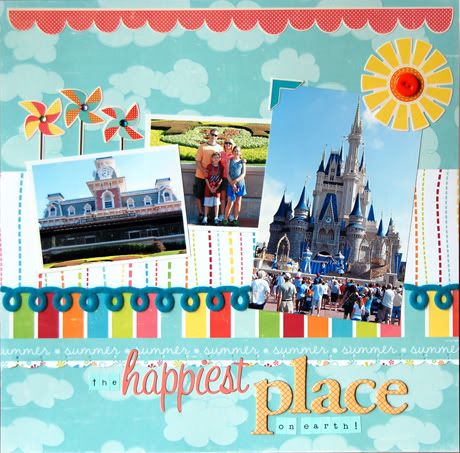 This line is so much fun! I used the
sticker sheet
for these pin wheels, then I just added a gem accent to add some sparkle.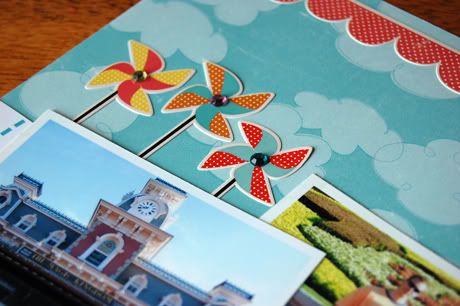 Another cute element from the sticker sheet. This time I used a button for an accent.
OH, if you're interested in step by step instructions on how I put together this layout, visit
this Ally Scrap blog post
to see the instructions. It really came together very quickly.
Summertime is officially here at my house! The kids' last day of school was yesterday. I thought I was going to get to sleep in this morning. Instead, I was rudely awakened at 6:30 am by the sound of the toilet lid being dropped by my son.... ahhhh, summer! ;)
Have a great day!