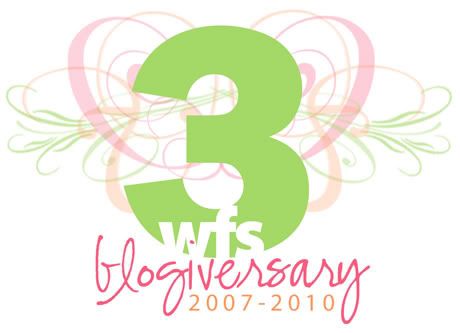 Today is my bloggiversary! 3 years!
It's funny, I barely remember why I started this blog. Now it's become a place where I can share my art, a bit of me, and throw in some digi freebies now and then.
My favorite share was being published in CK. I never thought in a million years that would happen! That was the highlight of my past year.
I think the hardest thing that I shared on my blog, was me getting breast cancer. I really just wanted to pretend that nothing was wrong, and just show you all my "happy" life. Unfortunately, life isn't always happy. I thought long and hard about sharing my cancer story, and finally I thought you know - if I only help one person, then, it was worth posting.
In the future, I will continue to blog about scrapbooking, because it's my creative outlet, where I can get my hands dirty, or well, not dirty, maybe sticky and sparkly! ;) But, I also want to share some stuff I've learned along the way about how I've changed my eating habits and how having cancer may have just saved my life. I know that sounds weird, but I've always said everything happens for a reason, and maybe having this life altering experience was to prevent my children from eating unhealthy food and going down the obese/diabetes/heart attack path. Those 3 things all run in my family. My uncle died from diabetes, I have a cousin a few years older than me that had open heart surgery. All this can be prevented. Even some cancers, by eating more the way our ancestors ate.
So, that's where I'm at. Hopefully it will be interesting, and I won't bore you to death!
Now, for the fun part!! Since it is my
bloggiversary
, and I've been blessed with so many things this past year (believe it or not!), I'd like to pay it forward. Just leave me a little comment, and I'll draw a random winner next Monday morning and get this box of scrappy goodies sent to you!!