Technically, as of this writing, the 4th is tomorrow, but I won't be here, so I'm posting today.
Phew what a week. Super busy with
Creative Charms
new product package design. I am sooo excited about their new stuff coming out. I am almost done designing the catalog insert sheet for the new products.
Today we're having some friends over for a cookout. My husband accused me of being "Martha Stewart". I take that as a compliment!! I've loved her for years, thru her ups and downs. I bought some Coca-Cola in old fashioned bottles. They are so cute!! But more importantly, there isn't any high fructose corn syrup in it!! DO NOT believe those commercials that it's OK to consume. It's not. Yes it has the same calories as sugar, but your body doesn't metabolize it like sugar. It's like injecting your cells with crack, they go a little crazy, your glycemic index goes up and well, you get fat.
More on that later... I've been reading the book
"Anti Cancer, A New Way of Life"
, and I am learning a lot about what we should and should not be putting into our bodies.
I had a great vacation week. I had planned on blogging everyday this past week, with what I did last week in photos, but alas, work got in the way.
When I went to the Outer Banks, I got to meet a scrappy friend. Patti gave me a HUGE basket with all kinds of goodies. What a sweetie. Here are a few things that were in there...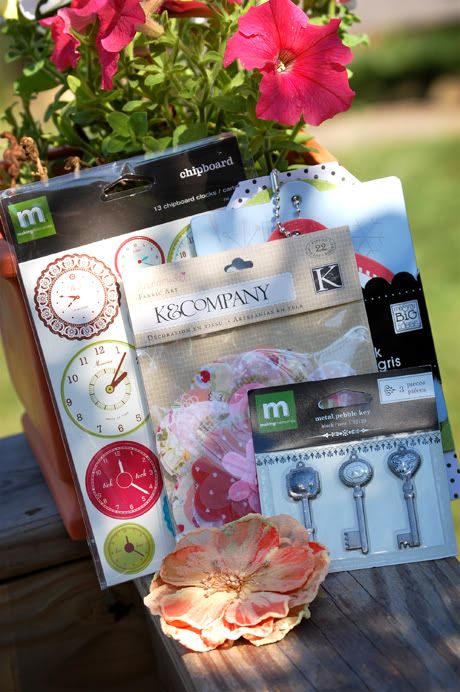 Then, of course, Patti took me to her local scrapbook store, and I bought these scrappy goodies (and then some):
I seriously want to do a beach mini album, or big album, or do a digi book from Shutterfly... I haven't decided yet. So many choices!!
We had our mail put on hold for the week, so on Monday we got a big bunch of mail! AND, yes!! I got a fun scrappy package from my favorite Hawaiian Scrapper,
Joscie Cutchens
! What a sweetheart for her to think of me. Here's what she sent me!!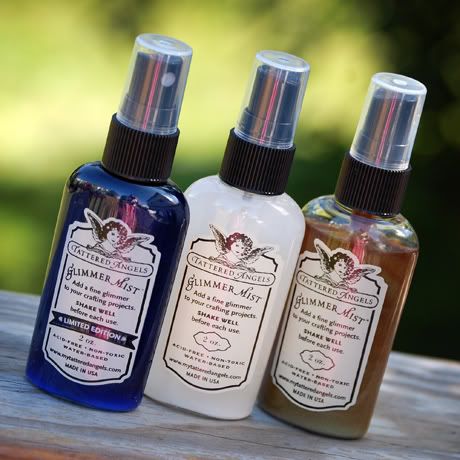 And also some TA stencils, so I can't wait to spray and play with the mist and the TA stuff I got at the OBX scrapbook store.
Now, if I only had some time to play!
Seriously, I come home from vacation, then suddenly everyone else is going on vacation, so I had to do all these projects and of course they were due pronto! Here's the tally: One mailer for SSPC, designed, logo designed for it, print management and print production, next, photography snapped for the new Creative Charms fall and winter line, Creative Charms 4 package headers, the catalog sheet, and the order sheet... also an ad for a local hospital. I had designed the ad, in bw, but she got a great deal on the back page of the news tab — so I had to redesign it in full color.
Phew... see, that's why I couldn't update my blog!
Oh, and yea!!
Ally Scraps
put this layout I did up on their
blog
. I used the Pink Paislee Starlight Collection. It's perfect for the 4th of July, or as I used it here, a Father's Day tribute.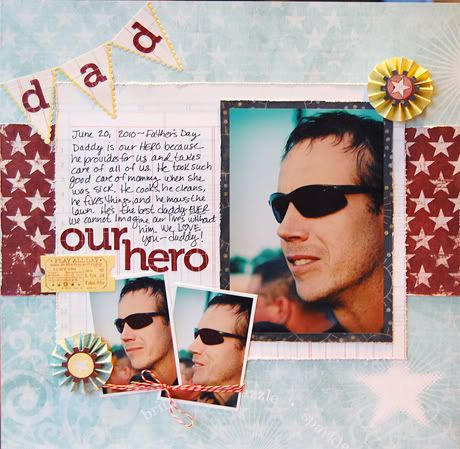 I made these little fanned embellishments, in lieu of a flower, since it's a masculine page.
I made a banner using the fun banner stickers on the PP sticker sheet. Love banners!
I'm going to hop outside now and snap some photos of my little deck all set up for our picnic. It's not happening until 6 when the sun goes down, but I started to set it up. I need to make the 7 layer taco dip and a lemon blueberry cake.... mmmmmmm!
Have a great

4th of July

to all my

USA

readers, and just an all around happy day to everyone else!!

Peace!