Not for me! I barely have any hair! LOL! But, for my daughter. Her hair is getting so long. I have hair envy. My hair used to be like that! She wanted some side swept bangs cut into her hair. Right before vacation, I took her to the salon to get them trimmed up. She loves them.
Here's a layout I did using those photos. I used the new
Kaiser Craft line Utopia
that I got from
Ally Scraps
. All the instructions are on the
Ally Scraps blog
. I was very honored to guest design for Ally Scraps this past month. They have had quite a few "famous" people guesting for them lately, so for Dana to ask little ol' me, well, I was just thrilled! :) You'll have to check out who posted before me... Melissa Phillips and Cherry Nelson. Next month is Linda Albrecht! Pretty exciting!
Emma loves purple, so this paper was great. It's paired with blues and greens and browns.
Here's a close up of this flower that I made with my Slice. I used some stickles and a gem for the center: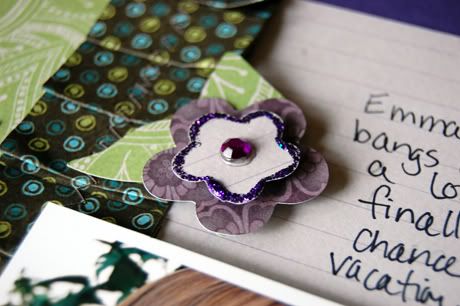 That's not the best Stickle-ing in the world, but it added some sparkle.
I'm very excited about summer and all the summer food. Our garden is doing well (so are the weeds in it! LOL!). We have at least 3 farmers markets in town. I found that
Sarvers Farm
is totally organic, and they sell eggs for about $2 a dozen. That's cheaper than buying Egglands Best with the Omega 3's....
by the way,
did you that ALL eggs have omega 3s? It's just that when you feed the chickens stuff they're not supposed to eat, they start producing Omega 6's - the bad fats. Now if you just let a chicken be a chicken, let them roam around and pick at the dirt, grass and bugs, the eggs are naturally full of Omega 3's... so the fancy eggs really aren't all that fancy, they're just EGGS! Isn't that funny? They are normal eggs, the way God intended them to be. Not the way the commercialized eggs are. I feel bad for those poor commercial chickens.
I'm learning a lot about food... there's a snippet. I don't want to overwhelm you, but next time you eat or bake with an egg, maybe you'll look at it differently. The more we buy natural foods, the less they will cost, and of course, they're much better for you.
Have

a

great

day!

Hope

you

can

get

creative,

or

at

least

stay

cool! ;)



ETA:
after I posted this, I did a little poking around the internet. I was using a reference from the book that I'm reading, Anti Cancer, but here I found a study on Mother Earth News. :)