This week has just zoomed by! I blinked and it was Thursday!
Lot's of milestones this week...
I finished my chemo pills on Saturday (did I mention that before?). So glad to be done with those. I'm just very tired this week because that gunk is still in my system.
My son went to the dentist/ortho to get molds made for his expander. Next week he goes in for spacers. I kind of feel bad, I know it will hurt. :(
Here he is getting the mold. He did very well.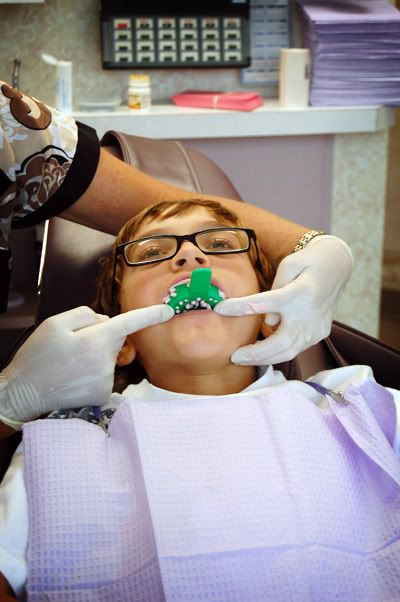 Those were 2 milestones... next one is that I went in for my radiation appointment. Apparently, they tattoo you so they can zap you in the exact same spot every time. I will begin radiation August 18th. Next week I will go to get my tats! LOL!
7 weeks of that, then, dare I say, good Lord willing, I hope I am done with all the cancer treatments. You must go Monday through Friday. Everyone that I know who has gone through radiation said that this is the easy part.
After all that, I will get reconstruction, but that's about a year down the road.
I had absolutely no time to sit in my scrap room and get creative this week... but, I did play with some digi stuff. I made this layout about the 4th of July... technically is was July 3rd, but we were celebrating anyway.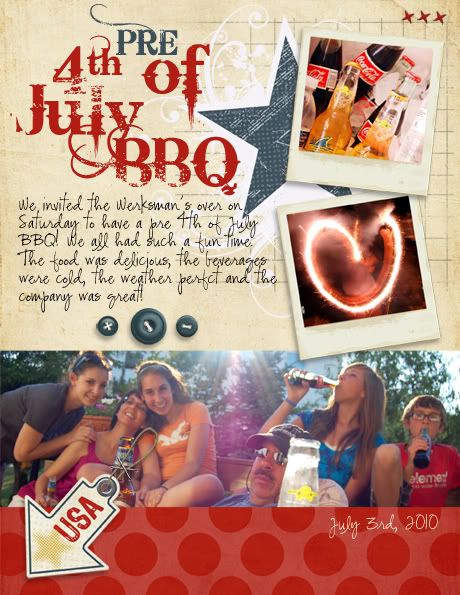 All the digi stuff is Crystal Wilkersons. She rocks!!
Tomorrow I will go to see my oncologist. My liver levels were up from those chemo pills. They made me get a scan. Dr. P (he's Russian and has a very long name) saw the report and didn't say anything, so I hope that means I'm "normal".
It will be nice to have a few weeks of not going to the doctor. I do have to get a mammogram next month. Can you believe that in August it will have been one year since I found the lump. So, I said to my husband, since I only have one boob to mammo, do they only charge half price??? ha!
Don't

forget

to

feel

your

boobies!!