I paper scrapped!! Yep, I sure did!! Wow, it's been almost 2 months since I sat down and scrapped a page.
This is a pretty simple page, but it got my mojo going (finally!!) Plus, I've slowed down a bit with work and have some time to play.
This is a project for my LSS
Art Tech
. It's all Reminisce. The line is called
Unwritten
and it's got all kinds of cool peace symbols and fun colors. As soon as I saw it I knew it'd be perfect for my daughter.
I did a photoshoot of my daughter and her friend. My daughter had a headband on, ala Elsie... very hippie-ish, perfect for this paper line: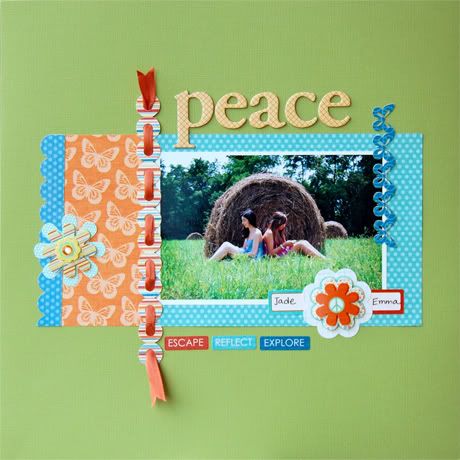 I added a little bling to the page with a Creative Charms jewel, available at Art Tech (or
A Cherry On Top
). The circle strip came in a package called laser cut strips. It also had the scalloped edge and the butterflies... no need for a punch, just grab and go. I wanted to add some ribbon to this, so I threaded it through the striped laser cut circle strip. Love how it turned out!
In other scrappy news... I took the old printers tray and decided to use it for a little organizing drawer and put some schtuff in it.
It fit perfectly in the middle drawer of my desk providing easy access to buttons, trims, glitters and other miscellaneous embellishments.
In other non-scrapbook related news...
tomorrow is my first real radiation appointment. At 3:45 I will get zapped. The only bad part is that I have to put my left arm above my head and it falls asleep immediately (due to my surgery, cut nerves and such I guess). But, they say it should only take 10 minutes, so I can handle that. I keep reading bad things about radiation, but I need to put it all in perspective... first, these studies might be 3 or more years old and technology for cancer is changing daily, and second, some of the studies may be of ladies in their 60's... so I'm hoping that with new technology and the fact that I'm younger will make me able to heal up quicker and not end up with cracked ribs from radiation weakening my bones. It's all for the greater good.
Actually, knowing that I'm
thisclose
to being done with ALL cancer treatments — THAT makes me super happy.
And,

as

I've

said

my

whole

life,

this

too

shall

pass.

:)