I can't believe it's been a whole week since my last post. I was going to post something last Friday (a freebie), but then one thing after another had to get done. Duty calls! Gotta work. I'm really glad I love my job.
School starts next Monday, so this past Monday we went to orientation for Ethan to go to middle school. He had trouble with his locker, but I'm sure he'll get the hang of it. I hope he knows someone in his homeroom. Don't first days just suck? And Emma will be going to high school.... HIGH SCHOOL... did I just write that? Wow, seems like yesterday she was an itty bitty babe in my arms. I'm sure she will do fine. And since she is 5 foot 6 already, I don't think she will get kicked by anyone on freshman kick day. Yep, my daughter is officially about an inch and a half taller than me. And gorgeous (if I do say so myself). My friend Patti's husband thought Em was 17! I quickly said "oh no, she's only going to be 14!" (9th grade is HS here)
Seriously, do I look old enough to have a 17 year old?
(don't answer that!)
;)

Here is the 7 Gypsies Printers Tray. I must say, I love this. I loved working on it, had fun doing it. I painted, sprayed mists, inked edges and even used a Tattered Angels mist template. I think my gianormous pink butterfly is rather gaudy, but that's OK. I figure if there is something that I don't like down the road, I can just take it off and replace it with something else.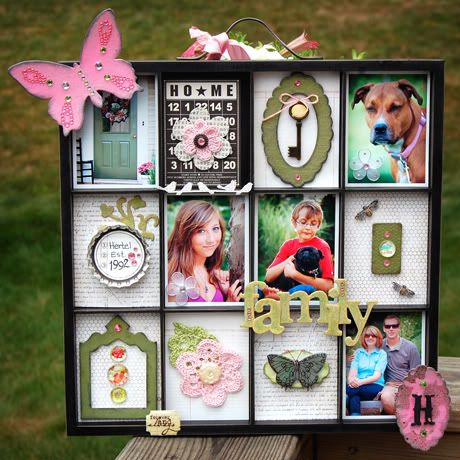 Couple of close ups... cause, you know, I like 'em!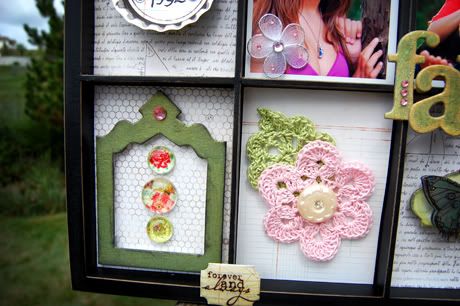 That's

it

for

today.

Hope

you

have

time

to

play

with

some

creative

stuff!!