Has it been the longest week ever? OK, maybe not, but I am so dang tired. I think the radiation has finally and officially kicked my butt. Only 5 more left, and the last 5 are not my entire chest, just along the scar. I can't wait to be done, and healed up. Radiation wasn't a breeze for me as some people have said. I have purple peeling skin, and it ain't pretty. Of course I have to have 33 treatments. Had I only needed 20, it might be a different story, but every case is different.
Can you believe it's been a YEAR? For one very long year, I have been getting cancer treatments of some form or other. September 30, 2009 was my first chemo. And my last radiation treatment will be September 24, 2010.
I won't know what to do with myself when I don't have to go to the doctors for a month... how weird will that be?
So, now for my PSA... please, please, please, feel your boobies and get a mammogram. If, God forbid, you find anything, it would be sooner than I did and your treatments could be quicker and less invasive. Also, I recently heard that you should get a baseline mammogram at age 35, then you don't need to get another one until 40. If you have that baseline to compare - it will be of great value to you and your doctor.
Other tell tell signs are unexplained tiredness. As I look back, I recall saying things like "I am so tired, I just can't get enough rest." This was back in March, just think if I'd have gotten a mammogram then? Maybe it would have been stage zero with just a few cells to remove.
So, listen to your body. If you have an inkling that something is wrong, get it checked, waiting is the worst.

OK, now for pretty stuff... had to get the ugly stuff out of the way first.
I used this MME paper, Quite Contrary, love the fun bright colors. For the top part, I was wishing I had some of that American Crafts flower ribbon, the stuff that Elizabeth Karcher designed, but, alas I haven't been able to find any of it anywhere, so instead I grabbed some tissue paper and crumpled it up a bit and sewed it to this little piece of polka dot paper.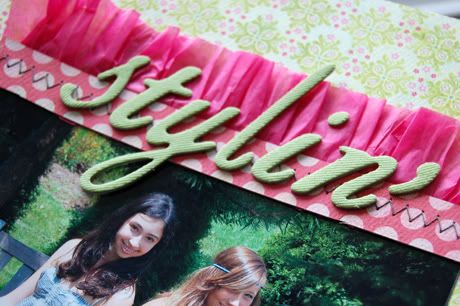 Here's the whole shebang.... (isn't that a funny word? Shebang... one of those words that just looks weird when typed out.)
And, of course I used my beloved Making Memories Slice for the butterflies.
I hope for my birthday I get a Michaels gift card because I want to buy a new Slice cartridge.
Take

care,

and

have

a

fab

weekend!!!