But so much fun. Non-stop laughing. It is so nice to know that there are people out there in the world as goofy as me. Seriously.
The scrap retreat was held in Lancaster County, PA... in Paradise to be precise. We stayed in a cute little house. Everyone was so nice, and we all got along. I think that's just how scrappers are.
We have so many stories. We had raffles and food and goodie bags and food and personalized t-shirts and food and scrap shopping, oh did I mention food?
Jokes flying left and right about the local town names of Intercourse, Blue Ball and Bird in Hand... not to mention the Amish buggy horse poop that was everywhere... too funny.
Let me share some photos of these crazy girls... here is the Friday night crew. We were the ones who stayed in the house, except for Michelle, she lives in Lancaster: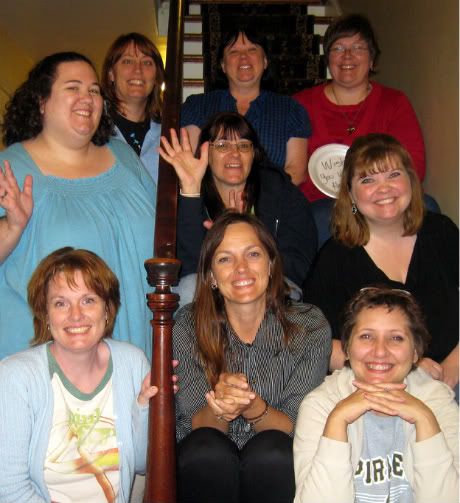 Top L-R:

Cindy, Karen, Gay,
Kyla, Jeri, Michelle,
Nicole, Carol, Chris (that's me!)
We passed the albums around on Friday. It was fun to see how differently everyone scraps. I collected a ton of ideas.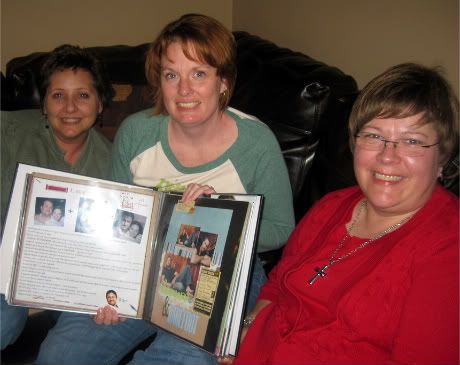 Me, Nicole and Gay... aren't we cute???
Nicole and I made these scrapbook pages of Gerard Butler (the hot Scot) for Gay. (She has a tiny crush!) Nicole's is the white one and mine is the blue.
Saturday we went shopping to different LSS. There was a Buggy thing where you got your passport stamped. Carol and I went to the outlets instead and bought purses. I got a Coach Purse!! It's my first, so excited. After lunch, Carol and I did hit the Flower & Craft Warehouse and did some damage.
When we got back to the house, I actually scrapped a page! I'll share that with you later. Can you believe I got anything done? Then we hung out, ate some food, watched some Gerry Butler movies and some naughtiness ensued.... with a giant pair of purple panties... OK, we won't go there, but these girls are K-A-Razy!!
Nicole and Michelle.
I had a great time. It was so fun to meet all these people in real life. I've met some IRL, and talked to others on the phone. Isn't it funny, though, that we all knew so much about each other from talking so much on the scrappy message boards and facebook? This internet thing is pretty cool. ;)
So, what do you think of my crazy short curly dark hair? Well, at least it's hair! LOL!
One more photo, this is all 12 girls on Saturday night. I was getting a tad tired, but still having fun:
Far Back Top:

Karen, Carol, Kyla, Jeri, Michelle, Me, Cindy, Rose, Gay, Nicole, Renee and Becky.
Have

a

great

day!