Here ya go! A scrappy page. It's not super blinged up or anything. I did this for my LSS, Art Tech. It's all Basic Grey. I used Cindy's EK Success big punch on the edges while at the crop last week. I had never used an EK Success punch before. I like how they lock closed.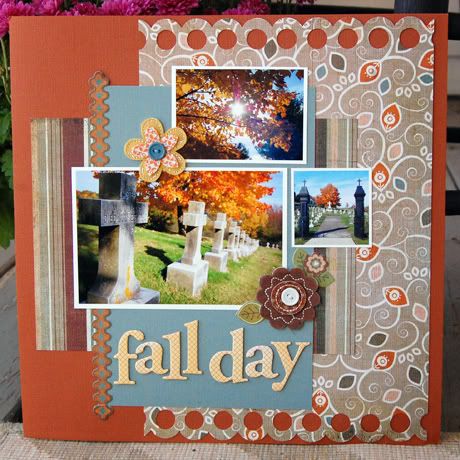 Couple of close ups:
I really like these BG flowers:
And here is a picture of my baby... oh, how I love, love, LOVE this purse!! Seriously...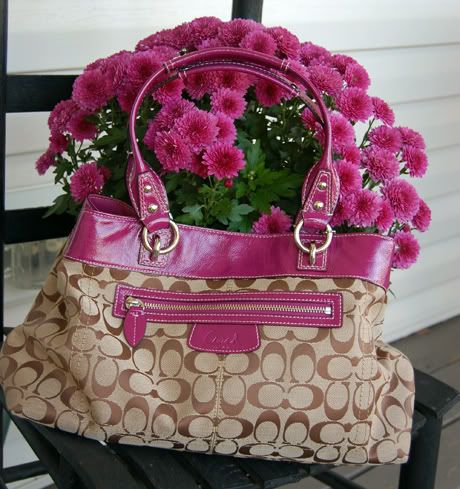 What's funny is I never thought of myself as a purple person... this is more on the magenta side, tho. I like it. Coach outlets are the best. When we went last week they had a Columbus day sale, plus if you donated $1 to Breast Cancer, you got another 5% off. Of course I donated the $1... I mean, what a bargain! What a great cause!!
Fall has really kicked in here. I took some photos yesterday. Did I mention that I've enrolled in a photography class at the local community college? The sad thing is I learned more yesterday from an
online photography guide
than I did these past 2 weeks of classes. I did ask the teacher after class if he had a more advanced class. This week, we're going to learn photoshop... ummm, I already know photoshop. I use it everyday for work. I thought the class was more on how to use your camera. I know how to use photoshop. Don't you think we should learn first how to take the photos before we learn how to edit the photos?
Oh well, it's kind of fun to go and the people in class are nice. And, I really like my teacher. He's an older guy, but he's cool. He has cancer right now, and is getting chemo for the third time. It's Hodgekins I think... I just can't imagine going thru chemo 3 times. That's terrible. I told him to read the book
"Anticancer: A New Way of Life"
. They way I figure, eating that way won't hurt.
I'll share my photos with you a little later in the week. I need to make them smaller file size for the web. I was pretty excited, though, to shoot full manual!!
Have
a
great
Monday!!