I'm leaving in about 12.5 hours for a scrap retreat with some girls I met online. I've "known" these girls for years on the message boards - Creating Keepsakes and a few other scrap sites. It's going to be so cool to meet them all in person.
I have scrap goody bags to give them, but I also made these really cool treats. When I bought the knobs for my dresser, each one came in a plastic package. I held on to these thinking I could do something with them.
Here's what I did.
First, I made some labels on my computer and then printed them out on label paper. I had some kraft crack n' peel, so I used that.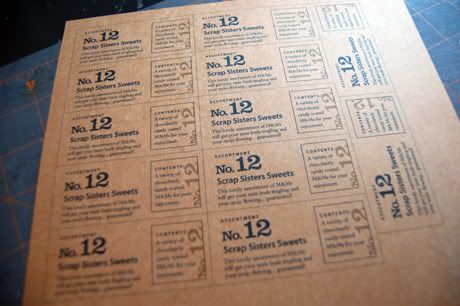 Next, I took a really cool Martha Stewart butterfly stamp and using my brayer and some paint I "stamped" onto the plastic boxes.
While the paint dried, I cut out my labels and gave them a little notch at the folding point and a decorative edge.
Here they are: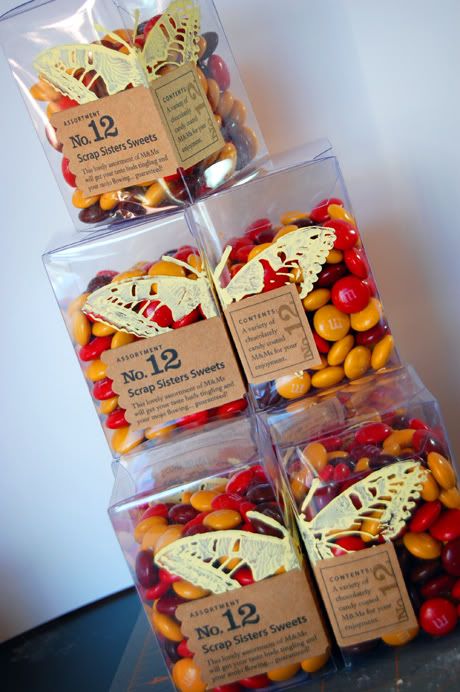 They look cool all stacked together, making a full butterfly. Love how the fall M&Ms look in the boxes.
I guess this is upcycling??!!
I seriously love how these turned out. I picked the number 12 because there are 12 girls coming. I saw this design on a tea label and kind of "scraplifted" it.
I hope to get at least a few layouts done in between all the shopping and eating and well, someone is bringing Marg & Rita.... I hear they can cause trouble!!
Have

a

great

weekend!!