It feels like forever and a day since I did a paper layout. I have had this on my desk for a month, and finally over the weekend had some time to play with paper.
I used the SVG freebie cutouts that I provided in the post below on my layout. I love how it turned out.
Here's the layout:
The title really pops, since it's in green. There is some of that green in the striped paper. All the paper is
My Minds Eye i Believe Christmas
line. It's so adorable! The brads are MME and the cream vintage velvet flower is one of our new colors from
Creative Charms
. The chipboard snowflake is from 2 years ago, it's DCWV.
Couple of close ups: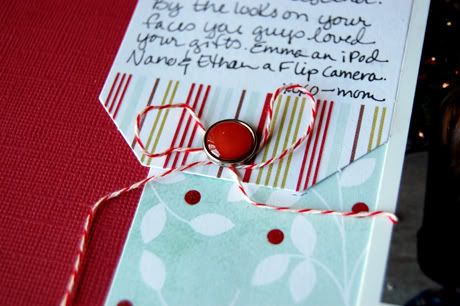 This is one of the tags on the MME punch out sheets, I added a simple MME brad and some bakers twine in red & white candy cane stripes.
Close up of the Creative Charms vintage velvet flower. They come with a pearl, but I thought this big brad really popped.
And last, is the title that I designed and cut out on the Silhouette: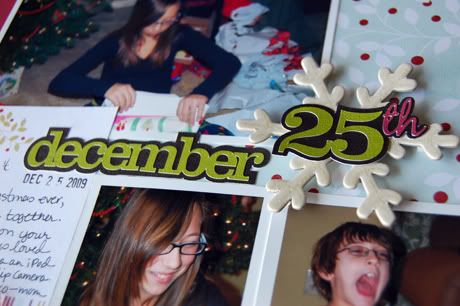 I love the drop shadow.
If you do happen to do the cutout, I wouldn't cut out the December much smaller than 4 inches across, my "m" fell away from the "e".
Instead of regular cardstock, I used the Quickutz sticky back stacks. Perfect for titles because they are already sticky.
Today we are
(finally)
going to go see Harry Potter! I think I'm more excited than my kids. First we are going to have lunch - we're going out for Sushi! Couldn't think of anything more different than the turkey we've had for the past few days.
By the way, I've reorganized my blog and I have a page just for all of my
freebies
. Rather than trying to scroll through all my posts, you can simply select that button, and they are there for the taking! I also added a handy dandy
search
feature.
Hope you all had a wonderful Thanksgiving and enjoy the last few days of fall, because as far as I'm concerned, winter and the Christmas season begin December 1st!!
Have
a
great
day!!