It was going to be 4, but my snowflake did not turn out and you cannot punch thru folded layers... FYI!
You may have seen some of these techniques before, but I thought I'd share with you a few different ways to use border punches.
No. 1
The first one is a super easy idea. Use your border punch to make the edge of an envelope flap really cute:
No. 2

The second idea is pretty easy, too. Cut a strip about 1 3/4" wide and whatever length you need. Using a fancy lacy edge punch, punch along each side. You should end up with something like this:
Looks great wrapped around a small box, or even a gift bag. And, of course, you could use it on a layout as well.
No. 3
The third option requires a bit more work. I have 2 samples. For the first sample, I cut a 12" strip about 1 1/2 inches wide (give or take), then punched along the one edge. Do an accordion fold using the punched edge as a guide. I folded between each scallop, and then in the middle of that scallop as well.
Once you have it all folded, create a circle, then tape or glue edges together. I used a one inch punch to punch a circle which I glued in the middle of my "medallion". I added a big sparkly gem from
Creative Charms
to finish it off:
This would look great on a holiday bag or tag or even hanging from a Christmas tree. The thinner the paper, the easier it is to fold. I used an old holiday paper stack.
The next one is the same concept, but bigger. I used about a 2 1/2 inch wide strip by 12 inches long, and you will need 2 total. One wide strip won't make a complete circle, so you will need 2.
I scored between my punched edge for easier folding:
(this is the Martha Stewart Lattice punch)
Once both strips were folded up, glued and put together, I punched a 1 1/2" circle and topped that with another Creative Charms brad, this time using a
vintage brad
: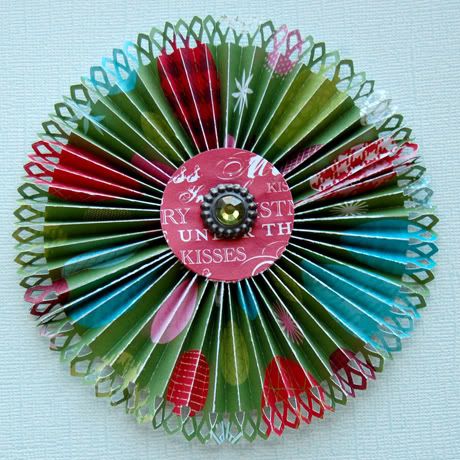 I think it might have looked prettier had I layered a larger circle under the red one. It's still pretty and would look great on a tree with some added ribbon and sparkle.
These were just my practice ones, to see if punching the edges would make for a prettier accordion folded embellie, and it does!
I'm sorry for the blog absence last week. It just kept getting pushed to the back burner.
I did work on some cool SVG images that I will share with you in upcoming posts. My gift to you for visiting my little ol' blog!
Have a happy Sunday!!