I'm having a blast with this December Daily! I'm doing the inside pages hybrid style, using last seasons Crystal Wilkerson's Christmas kit. Here is a link to the papers that I'm using. They are on sale today on the Jessica Sprague site.
Dec. 09 stuff here.
I think Crystal Wilkerson's designs are phenomenal! She also designs for Echo park!!
Here is my day 1. I did this hybrid, and I made it relatively simple. I have one or 2 papers, used a punch, and then did something special with the number:
Detail: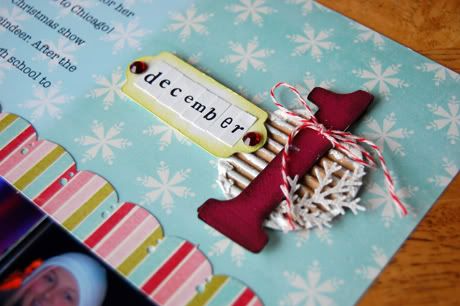 Day 2:
I hand cut out the snowman & the letter A: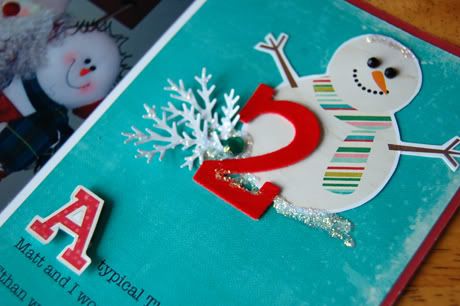 Day 3:
Detail, I used Ranger Distress Stickles on the holly leaves, which are really, really ---
really
old, from Making Memories!
Day 4:
Detail, another little hand cut critter from Crystal's digi kit, too cute:
Here's how I'm putting it together. I've set up an 8 1/2 x 11 template in photoshop. Each page is 8x8. I figure out where the photo goes and leave a white space there for position (also saves on ink, no need to ink what you don't see). There is a few inches left at the top, so I put the things there that I want to cut out, like the snowman or the strips of border paper. Then I cut everything out and add some stickles and I'm done. It really doesn't take that long. I've noticed a few typos, but I wanted to make this easy on myself, so I'm not stressing about it. I'm just happy to get it done!
Are you doing the December daily? Are you enjoying it? I am, but I'm spending so much time in my craft room that I haven't finished decorating! We do have the tree up, tho!
Have a great day!

Hope you can get

crafty

/

scrappy

/

artsy

today!