Technically, I did this layout last week, but I kept adding things to it. (I'm still on track for 2 layouts a week!!) The last thing was the key. I cut it out yesterday on the Silhouette then stickled it with silver stickles. It's so shiny!!
And a few close ups: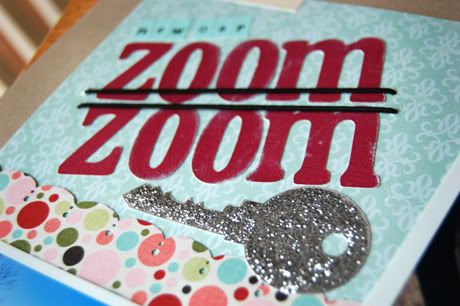 The very shiny key! The use of elastic around the zoom zoom. The rubberband/elastic was part of my challenge for an online crop we're doing.
A homemade flower, made out of fabric from an old shirt. I ripped it, twisted it and made the flower and the leaves. Then I sprayed it with TA Glimmer Mists. The beads are earring beads.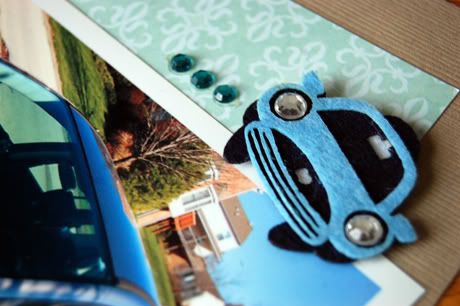 And here is the cutest little car from Creative Charms! I added 2 Creative Charms Clear Gradient Gems for the headlights.
By the way, if you sign up to follow
Creative Charms blog
, there is a prize involved. Check it out.
I have another layout up my sleeve. I tell you, I really think I work better with deadlines. When I have too much time, I'm such the procrastinator! Seriously!
On another note, my printer would not work... I spent most of yesterday and a few hours today reinstalling the software about 5 times... only to find out that my husbands computer was not sharing with me. We're on a network. OMGosh, what a pain. I went into his system preferences (we're both on macs) and clicked on printer sharing, and wala, it showed up in my list. Thank goodness. I really was getting frustrated!!
Now I can print my pictures for my next layout, which I am going to scraplift from Lizzy K. I love her style.
H

a

p

p

y

S

c

r

a

p

p

i

n

'!