And, as promised, albeit a tad late - wanted to post this last week, here is the layout with my beautiful boy! Isn't he a heart breaker? Just look at those baby blues! And his super blond hair! Gosh, he was a cutie at 2... ok, he still is 10 years later, but, he's 12 now, and as many of you know, sometimes 12 isn't quite as cute as 2!
See, his face cleared up!! (if you are wondering what I'm talking about, see my last post.)
And a few close ups: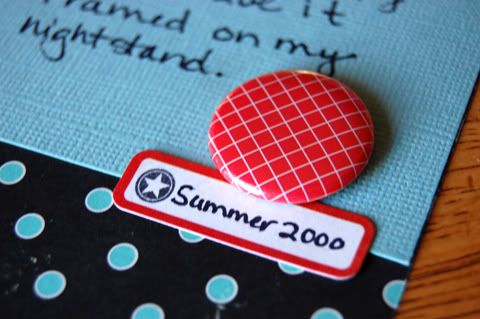 I pretty much used up all old stuff, except for the American Crafts flair, I got that this past October in Lancaster while on my retreat. I'm totally up for another scrap retreat!!
On this piece, the doggie was green. He didn't really match, so I painted him this gray blue color... and there ya go, now he matches.
Well, that's about it. I do have another crafty project to share later on. I was sprucing up my foyer this past weekend. I went "shopping" in my basement for accessories... it was kind of fun. I used a lamp that was in the front living room on the foyer table, put my husbands deer rack up... and wa-la... a totally new look, all from just shopping around the house for stuff. I had a spot on the shelf that needed something... so I whipped up a little crafty project for that space... so stay tuned.
Hope you have a great crafty day!!