It's Wednesday, in case you weren't aware, or maybe you haven't found a decent 2011 calendar yet! ;)
Humor, R-R... remember Mork from Orc?? I was in 7th grade, and it was a huge hit. Everyone came back from Christmas vacation with Mork rainbow suspenders, including me. The "kids" at work were talking about it, and this one girl says "I wasn't even born yet"... I felt old.
Anyway, here is the bumpy part of my post. My son has allergies. 3 major ones, dairy, eggs and peanuts. He also is allergic to cats and wheat, but he can eat wheat now. (He doesn't particularly care for the taste of cats! R-R, more earth humor!!)
Prior to knowing that he had all these allergies, I was nursing him and eating everything that he shouldn't have. As a result, the poor little guy had horrible acne. I know that infants have infantile acne, but usually after the first month it goes away. Ethan was over 2 months old yet he still had it. I asked the doctors but they just brushed it off.
One evening, I decided to give him some formula. I had some free samples from the hospital. I mixed it up, and gave him one ounce. Just one. He got super hot. His belly broke out in splotches. I knew (as mothers know) that something was seriously wrong. The next day I took him to the pediatricians office. Our regular doctor wasn't in, but Dr. Maroon was there. He thought that maybe I should stop drinking milk. That maybe Ethan was allergic to dairy. Also to make an appointment with the allergist. I made an appointment, which was a week away, and during that time I tried really hard to give up milk. It was really hard. I found a formula that he could have (
Nutramigen
). After his test results came back, we found what he was allergic to. Thankfully, he could have soy. He went on a soy formula, and I went back on my regular diet.
I also had him tested for peas, and he wasn't allergic to them then, but, he is now. His lips will swell up like balloons. If you think about it, the pea is a legume and a peanut is a legume, and they're related. No peas or peanuts for him.
I've been wanting to document this story along with these photos of my poor baby. He looks like a teenager with severe acne.
I titled it
We Did Not Know
...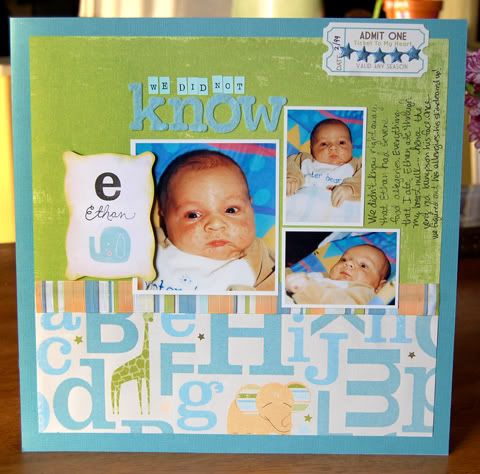 Here are a couple of close ups: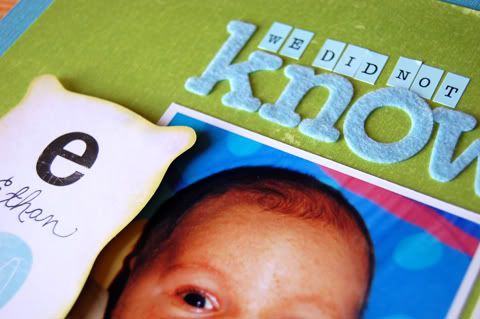 In this one, you can really see his poor skin.
I'm glad I documented this. Ethan hates having allergies. Thankfully at 12, he is outgrowing some of them. He can have egg if it's baked in something like a cake, but if it's mixed in Chinese noodles or soup, he gets very ill (we found out the hard way). He's OK with wheat now and milk isn't too bad any longer. He can't drink a glass of it, but he can have small amounts of cheese and he loves Rediwhip. Peanuts are usually a life long allergy that people do not grow out of, he cannot eat those, ever. They cause
anaphylactic
shock.
I did another layout this past weekend, I'll post that on Friday. It's a very cute photo of Ethan. I need to show you how cute he turned out after his face cleared up!! ;)
Have a great hump day!!