Hey, it's Friday, and one more week closer to spring.
I've had just about enough of this gray, white, black looking weather. Although yesterday we did see some blue sky, but it was only a balmy 20°.... brrrrr.
I hear we're going to have a warm up, I hope. I'm seriously considering moving to a warmer climate.
Well, on the scrappy front, all I have to share is this little birthday card that I made for my mother in law. It's pretty simple for the most part. I used my slice to make the shape, and my punch to edge the envelope, which she just gushed about!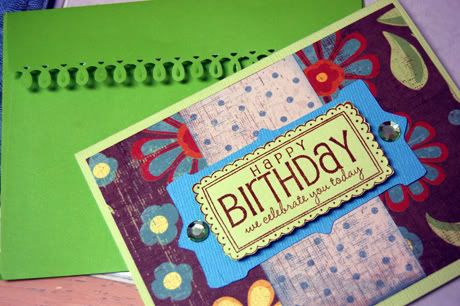 Speaking of cards, yesterday I bought a card... yes, you read that correctly, I bought a card. I just didn't have time to make a Valentine's card for my inlaws so I thought I'd buy one. And OMG, I picked up a pretty card with a ribbon and it was $6... S-I-X bucks!! Do you know how much scrappy paper and ribbon you can get for $6?? So, next time someone thinks our hobby is expensive, point out that buying a premade card costs a heck of a lot more. (unless of course, you get the cheapo ones)
Well, I'm off to work in the salt mines! Have a great day, and I hope we can all get creative and scrappy this weekend!!