I love getting out these baby pictures and scrapbooking them. I wasn't a scrapbooker when my kids were little, so every so often I get the urge to scrap older pictures. Sometimes it's hard, they're not perfect, but that's all we have. Luckily, I did have an SLR before they were born. It was a Minolta.
Wanna know a secret? I have about 10 rolls of undeveloped film sitting on top of my shelf. I wonder what's on them? I should probably get them developed. I might be pleasantly surprised.
Here's the layout I did with some baby photos of Ethan. I seem to be doing a ton of boy layouts lately.
I'm using older paper, trying to use it up. This is Making Memories. I also have a strip of Crate Paper. The cardstock is Bazzill bling.
A close up: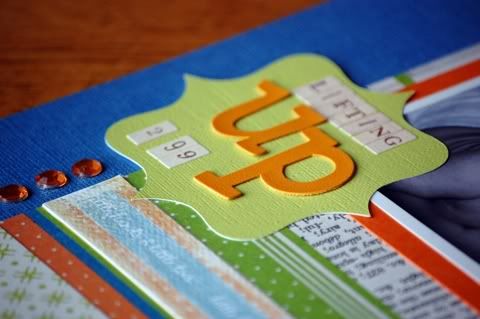 I cut the shape out for my title using my Silhouette.
Flowers on a boy page? Sure why not! These are
Creative Charms
sequined flowers in green. Notice the little polka dotted orange star? That's a Halloween embellie! Works here, tho. I love when I can use theme stuff for a different purpose.
The close up photos are more accurate in color, the top one is blown out a bit.
I've been super busy, and haven't even checked my blog all week. I'm busy working on a smash book... not the official smash book, but I made my own! Probably saved $15-20. I even attached a pen to mine! Granted, it's not as cool as a pen and a glue stick, but hey, it was free! Can't wait to share. I even have a video tutorial. And I must say, I have a great appreciation for those girls who do video tutorials, they're hard! Especially the editing!
Back to the star embellishment, have you ever used Halloween or Christmas or other specific themed embellishment for something else? I love doing that, you can only do so many Valentine's layouts!