Top o' the evening to you!
Where has this glorious day gone? It's a sunny 61° here... I love it! Ahhh, spring. My tulips are starting to pop up. I see buds on my weeping cherry tree.
I scrapped a lot this past weekend, but here is one that I did for a challenge on Two Peas in a Bucket... funny thing is, I did it, then forgot to post it in the challenge. Oh well.
The challenge was to use a quote in your layout. The quote I used came from my daughter, Emma. She was wise at the ripe age of 4, saying such things as (when overhearing us grown-ups talking about drunk driving) "You shouldn't drink and drive, you might spill your juice."
That was a good one, but the one I used on the layout ranks right up there... once, when she tooted while we were in the car, we looked back at her and asked her if she tooted. She matter-of-factly, "No, there's a dinosaur in my bum."
I think Matt might have driven off the road, just a little bit, we were laughing so hard!
Here's the layout, it's not technically that great or anything, but I'm trying to get memories down on paper, and not stress about what embellishments I'm using.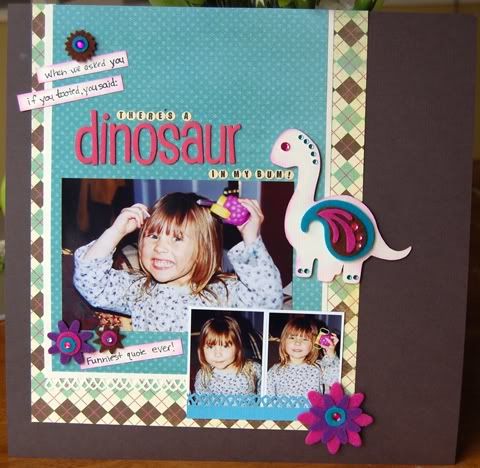 I used one of my Slice design cards to cut out this 4" dinosaur, then I decorated it up with these felt paisley things and some
Creative Charm gradient gems
...
Some more of the felt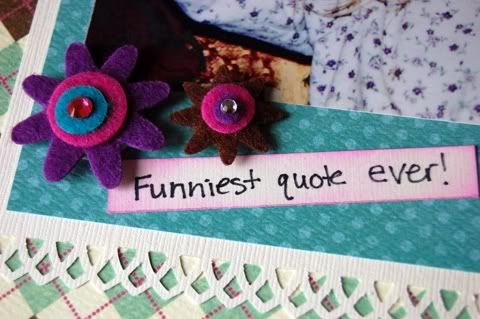 I finished off the package... it kind of felt good. (now I can get new stuff!) Actually, I haven't bought any new paper since November... can you believe it?? I have a lot.
I do buy embellishments, tho. And, my newest craze is Shimmer Spritz in glitter. Oh my, I've been spraying it on
EVERYTHING!
Here is a card I did using
ugly paper
. On a scrapbook board I frequent, we had an ugly paper swap. I spritzed the card with the mist, it's so sparkly. It's hard to tell from the photos: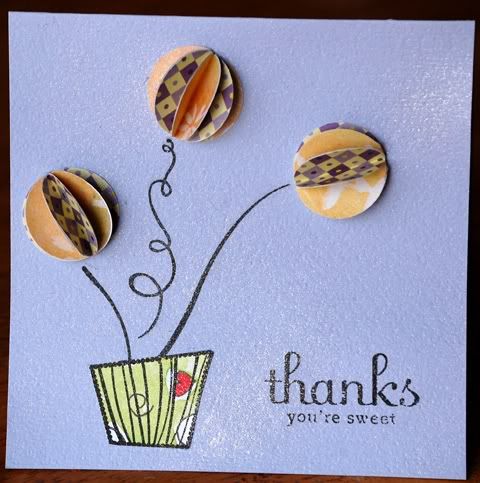 See the shimmer: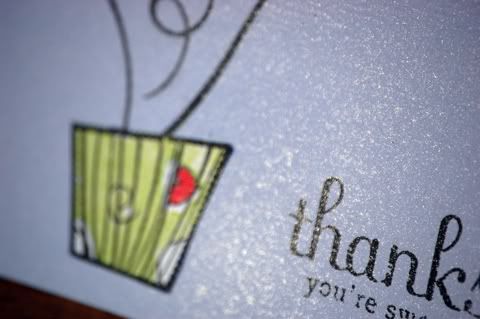 I made these "flowers" with the ugly paper, I just punched some circles, then folded the paper and alternated the 2 patterns:
There you go, 2 projects. I wanted to spread them out and post a few times this week, but I was busy. Gotta work, so I can buy scraps! ;)
Hope you have a crafty day!