I had a super busy week last week. I did my normal design work, plus I had 2 photoshoots. It was fun. My shoot on Wednesday was super long, and far away. Half way through Ethan's school nurse called, he was running a high fever. I told her I was an hour and a half away and by the time I got there his bus would be there... so I called my brother and luckily he wasn't doing anything so he was able to pick him up.
I don't talk about my brother much. You probably didn't even know I had one. Yep, he's my "little" brother, but he's bigger than me. He's an artist, too, but he's a tattoo artist. He's actually very good. He's always offering to give me free tats, but I always say no. There isn't any picture that I love that much to permanently put on my body. I mean, what if I get sick of it? I can't wash it off.
(I can't even decide what quote I want to put on my scrap room wall!)
He, on the other had, probably has 100. He is his own canvas...and a walking advertisement, too. If anyone asks him who did his tat, he can say "I did".
Here's a layout I did for a challenge.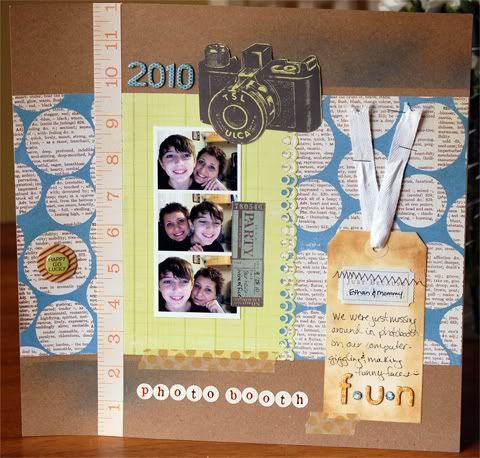 It has some sewing and some mists, and this new mist that I totally love and used half a bottle of already! It's
Tsukineko Sheer Shimmer Spritz in Sparkle
. It sprays out so well, no splats. And when it dries, it leaves the perfect sheen. I also have Tattered Angels Glimmer Mist in Pearl, and it looks very similar, but doesn't spray as well. The only downside to the Tsukineko is the bottle is very tiny.
The sparkle mist is on here, but it doesn't photograph well, but trust me, it's awesome!
I sprayed it on the tag, too:
You can kind of see it there.
I just have to share the baby picture that I took. I did that shoot for the hospital, it's for the maternity department, when Karen sprung it on me that I was taking shots of babies. I was totally unprepared, but the photos came out pretty good.
Here's a favorite. She's so A-dorable!
Seriously, what a doll!
So, tell me, do you have a tattoo???