Do you have one of these guys in your house?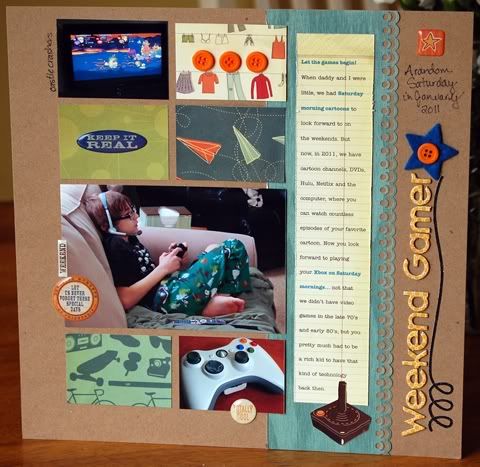 This is my 12 year old playing a video game on Xbox live.
In my journaling I wrote about how when I was his age, or a bit younger, what we looked forward to were Saturday morning cartoons. Now there are entire channels dedicated only to cartoons. The kids don't have to wait until Saturday.
At our house, during the school week, he doesn't get a chance to play many video games, so it's his weekend thing.
Here's a close-up:
I used Cosmo Cricket paper on this. The swirly thing under the title is a piece that I cut from the KI Memories scribbles word. I just wanted to use the tail part.
Did I mention that I haven't bought any new paper since November? Not one new paper line. I really have a ton of paper, and even with all these layouts that I've been cranking out... I haven't even put a dent in my stash! I wonder how long I could go without buying any patterned paper? One, two, three years? Three might be a stretch, but one for sure!
How about you? How long could you scrap if you didn't buy new paper?