to you all. Today we celebrate the day that Jesus rose from the dead in fulfillment of the scriptures. I think a lot of that gets lost in bunnies and candy. I don't talk about religion too much on my blog, because it is a crafty/scrappy/arty blog, but I do believe.
As I was watching the Ten Commandments last night, watching the waters part, I thought how could this stuff be made up? If so, they had some pretty crazy imaginations.
Easter is actually one of my favorite holidays. It's right up there with Christmas for me. Seriously. It's so deeply rooted in tradition for my family. When I was little, it started with Lent. No meat on Friday's, and to give something up, which when I was little was always candy. Now rather than give up something I try to better myself. I'll try to not be judgmental or think badly of people.
(we all do it)
On Good Friday from 12 - 3, the hours that Jesus hung on the cross, as children, we weren't allowed to play or watch TV. We had to pretty much sit silently. My dad would let us play cards. I don't do that to my kids. I guess, as a kid, we were 'suffering', at least that's what it felt like to me. Nowadays, people just go about their day, shopping, cleaning, watching tv... a lot has been lost in tradition.
Easter Saturday we'd go to the church and get our baskets blessed. You put your food in a big basket and take it to church and the priest blesses it. You put in your eggs, your ham, your kielbasi, bread, even salt and pepper. We would also dye our Easter Eggs.
(paska bread photo from allrecipes.com)
On Easter Sunday is the big feast after church, and I try to keep my end up here with the traditional foods. I'm of Slovak decent. There's a lot of meat on Easter. I make 3 kinds, ham, halupki's (stuffed cabbage) and kielbasi (Polish sausage). We also have Paska Bread, which is a sweet bread, kind of like Sweet Challah Bread.
Sides are mashed potatoes, veggies and macaroni salad. Dessert we have nutrolls and apricot rolls. I also made a carrot cake, because I love it! Oh you also have to eat horseradish. I kind of don't eat it, but you are supposed to eat it with the ham. Sometimes we'll have a lamb made of butter on the table, but I think that might be an Italian thing that we borrowed. My mom used to make hdruka, it's this egg thing, where you cook it until the egg starts to curdle, kind of like scrambled egg, then you put it in a cheese cloth and hang it from something and let it drip, then you put it into the fridge and it kind of makes a scrambled egg ball. You slice it and serve it with the Easter dinner. Weird. I don't make that. It's good with 2 pieces of paska bread and a slice of ham for breakfast the next day.
I love traditions. I love that they come from our heritage. I love learning about other people's traditions.
(hopefully, that hasn't bored you to tears!)
I made some Easter cards to send out this year, mainly to family. I used my Spring Slice Card, and cut out these Peeps. I sprayed them with some yellow Glimmer Mist because my yellow cardstock wasn't the right yellow. I then put diamond glitter glass all over and it looks like sugar. I was super happy with how they turned out: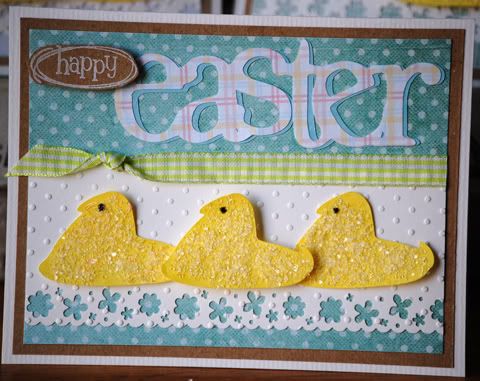 And a close up of the peeps:
So, tell me, what are your Easter Traditions, if you celebrate, or if you do Passover, what do you do? I'd love to know.
Happy Easter!