My goodie box from
Momenta
!! Where are you??? The UPS 'woman' stopped at my neighbors yesterday while I was outside, and I got so excited because I thought she would stop at my house next, but no, she drove right by. :(
Once I get that box, I can't wait to dive in.
Oh, and sorry about last week, that just flew by, and I could have posted this: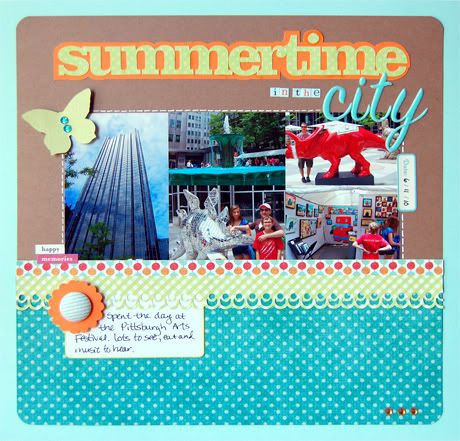 This layout was (again) highly influenced by
Nichol Maqouirk
, who is simply A-mazing!! I couldn't find the exact layout, but she's got tons of great stuff on her blog.
Here are 2 closeups: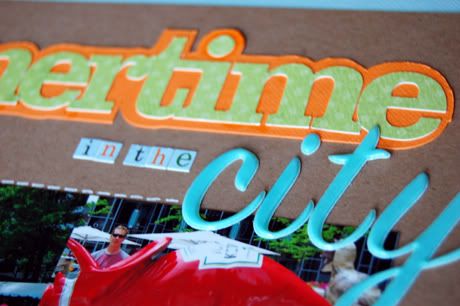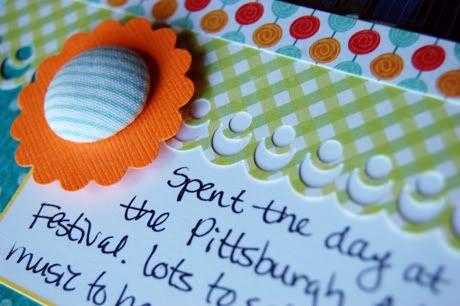 I used my Silhouette to cut out the title, which was a bugger!! I welded it, but it kept getting stuck. I think it's time for a new computer! lol! (I wish!) I can't use the Silhouette software unless I have system 10.5... and, unfortunately, I have 10.4.5... so close, and yet so far.
Hope you all are having a great summer, we are so far. My little man is enrolled in a painting class this week. Next week I'm going to THE BIG APPLE with my friend Diane. We're going to ride the Mega Bus... I CANNOT wait! fun!
My nephew is coming to stay for 2 nights. He lives in Virginia... oh, this is a funny story (sorry Bobby!). He is 16, and his mom is coming up to help his other grandma in Erie to buy a bra. Bobby pleaded with his mom, "Please don't make me go with you!" Heck, I don't blame him. I'm a woman and even I don't want to go bra shopping! hee hee... so he'll stay with us those 2 days and get to hang with our kids, so we'll do fun stuff, and I promise, no bra shopping! ;)
Have a great week!!

Thanks for stopping!!