To all the men who read my blog, which is probably my husband and maybe 3 or 4 others! And to all your husbands and dads, too!
I made a card for both my hubby and father-in-law. I have yet to make one for my dad, but I will see him tomorrow, so I have some time! I wanted to buy my dad a TV, but it's just not in the cards this year. Maybe for Christmas.
For this card, I used all
Momenta
stuff, even tho my box of goodness hasn't arrived. I just downloaded some free digi files. YES!! They have
FREE digi stuff
. You can just download the pdf and cut it out, or do like I did, and opened the png files in photoshop and resized them, to customize. And look how cute it turned out!!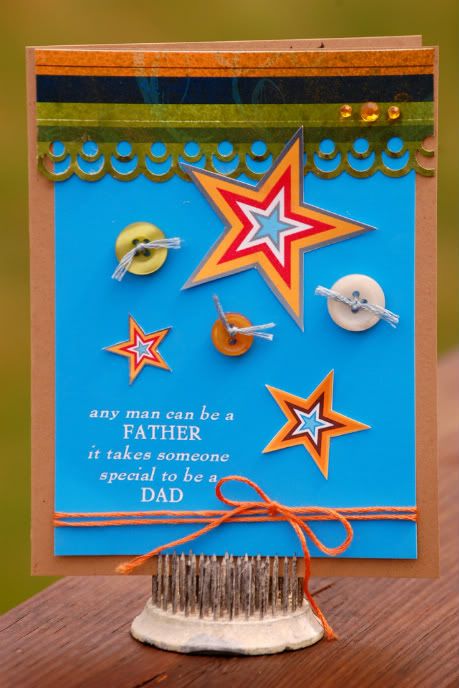 I just used the eyedrop tool to suck up the blue color to make the background, then I typed the sentiment in white.
Here's a close up: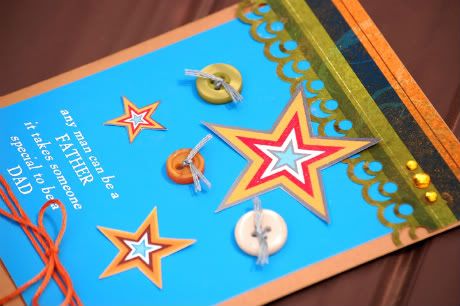 Add some string, some buttons and bling, and you've got yourself a snazzy (and quick!) hybrid card!
I always print my hybrid stuff on STAPLES brochure paper. The actual name of it is
PHOTO SUPREME DOUBLE-SIDED MATTE PAPER,
8.5 X 11. It's double sided, and thicker than copy paper, and it makes the colors really pop, and I believe it's water resistant, too.
Since yesterday was Matt's dad's birthday, and today is Father's Day, we invited him over for a cookout. He is 40 years older than me.... he turned 84, you do the math! lol!
We spent the day sprucing up our yard since Matt's dad is coming over. We lost 2 bushes over the winter from not normal salt for the side walk, but
environmentally friendly
salt... that statement is a bit of an oxymoron! It killed my 2 boxwoods! Luckily, they were on the ends, so we just moved a big rock that was being covered by a large stella dora (yellow lilly) and mulched around it. Looks good. The other I replaced with a small pink rose bush, that -
GET THIS
- I got for it for
FIVE BUCKS!
All the roses at Lowes looked pathetic and were broken, and just not taken care of, and it was $20... I didn't want to pay $20 for something that might die, so I asked if I could get a discount, and the girl said 10% - which is 2 bucks... I said well, that's not very much. She then asked the manager and he said,
"oh, I don't care, give it to her for 5 bucks."
I was so happy, I told him he made my day.
I hope you all have a great day, spent with husbands, father's and brothers! Happy Father's Day!